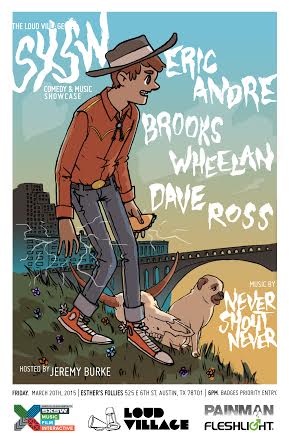 Loud Village is taking over SXSW for the 3rd year in a row!! We have our official comedy & music showcase going down at Esther's Follies in Austin, TX on Fri 3/20. Presented by the comic book PainMan & our friends at Fleshlight. This should make for a real FEEL GOOD experience!
the Loud Village Official SXSW showcase will feature...
ERIC ANDRE (Adult Swim)
BROOKS WHEELAN (SNL)
DAVE ROSS (Nerdist)
music by NEVER SHOUT NEVER (Warner Bros)
Friday, March 20th. 2015
6pm - 7:30pm
Esther's Follies
525 E 6th St
Austin, TX 78701
SXSW Badges & Guest List will get priority entry. Limited tix will be avail at the door for $10. We will be running a few contests for tix & giveaways.
A LITTLE INFO ON OUR SPONSORS...
Fleshlight: everyone does it, why not make it a little more fun?
GET YOURSELF A FLESHLIGHT OR OTHER FUN TOY HERE
...you know you want to check them out.
PainMan: the comic book hero that transfers pain from the victim back to the assailant, and this gives him his only relief from his constant neuological pain.