A Virginia church has launched an eye-catching campaign for this week's sermon. It's called "PORN SUNDAY," and the Church at Hampton Roads in Chesapeake is even promising an appearance by a former porn star at the Oct. 5 event.
The church has posted signs like this around town: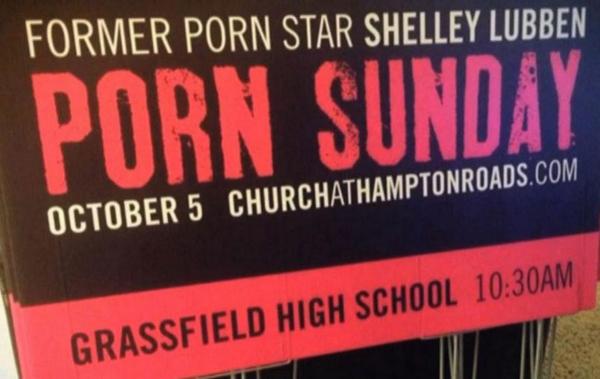 Even the church van is advertising "PORN SUNDAY":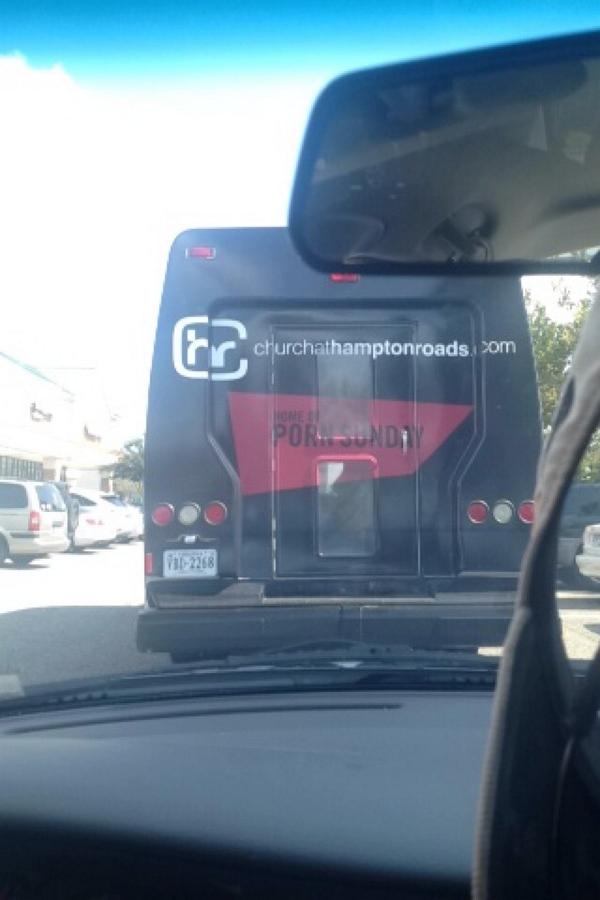 As it turns out, "PORN SUNDAY" will be a sermon against porn, and former adult actress Shelley Lubben will speak about the supposed dangers of the industry.
If that sounds like a bait and switch from the all-caps red letters of the "PORN SUNDAY" signs, that might be the point.
"Pornography baits and switches you," pastor Joel Brown told CBS affiliate WAVY in Portsmouth, Va. "It's an addiction that will kill your business, your family and your relationships."
Brown says he has personal experience in the matter: his wife was sexually abused and forced to watch porn from the age of 5, and he himself was once addicted to porn.
"I have experienced the death grip of porn in my life," Brown wrote on his blog last week. "Early on in my marriage it almost took everything from me. But God, in His mercy AND POWER, delivered me from the lies that were fueling my addiction."
The topic may seem very adult, but the church says it wants children to attend the service, which will be held at a local high school.
"(W)e are encouraging parents with children in Middle School and High School to bring their teens to this event," a message on the website says. "More and more children are being exposed to pornography than ever before, and we want to make sure that they are equipped with the truth so that they do not fall prey to the dangers of pornography."
The church appears to be making a weekend out of it. On Saturday, it's hosting a "Porn & Pancakes" breakfast for men:
Porn & Pancakes (men's breakfast) | October 4th at 9:30am
Men, let's gather, connect, eat and get informed on the dangers of porn as well as the dangers of the porn industry. We believe God is going to move in a big way as we surrrender this area to Him and learn more about it. You never know who you will meet and be able to affect after knowing more. Because if you do not struggle with this, someone close to you does. This event will be hosted at 1012 Artisan Ave Chesapeake, VA. 23323
Not everyone is enticed by the church's "PORN SUNDAY" plans.
"It's weird. Who would advertise like this?" Chesapeake resident Sarah Jorgensen told WAVY.